The FRAM robotic telescope is operated by the Institute of Physics of the Czech Academy of Sciences. Its primary purpose is to monitor atmospheric extinction to support high-energy particle showers observation by the Pierre Auger observatory Cherenkov telescope array. However, the telescope is also used for other research programs, like variable star observation, exoplanet transit measurements and also for photometry and astrometry of asteroids and comets.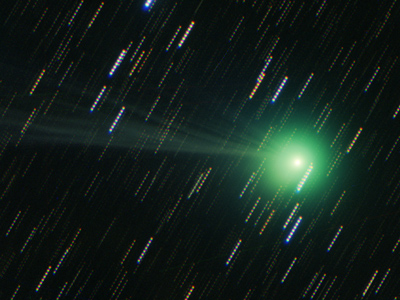 The main advantage of the FRAM telescope for observers from Europe is its location on the southern hemisphere. It can observe parts of the sky, which are not accessible from northern latitudes.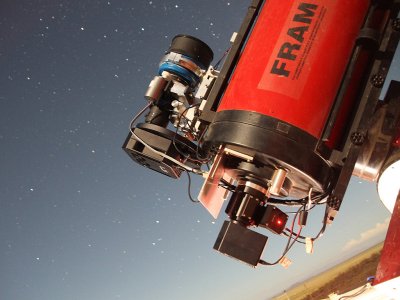 FRAM main optical tube assembly is 12 inch (305 mm) Schmidt-Cassegrain telescope on Paramount ME mount, with G2-1600 CCD camera. There is also 300 mm focal length, f/2.8 photographic lens (107 mm diameter) for wide field imaging using large format G4-16000 CCD camera, piggybacked on the main OTA. Both instruments are equipped with filter wheel and UBVRI photometric filters. The whole setup is controlled by RTS2 software package.
FRAM is not the only telescope equipped with Gx CCD cameras, supporting observations on the Pierre Auger Observatory. Also all-sky cameras, monitoring entire sky when the Cherenkov telescopes are observing, developed by Research Center for Optics of Palacky University Olomouc, use G1 cameras as a base of the system.
Image of comet Lovejoy: Martin Masek/FRAM/Institute of Physics, Czech Academy of Sciences.