Mauna Kea summit is definitely the place places with the highest concentration of biggest telescopes on our planet (both Keck I and Keck II telescopes are currently the largest operational telescopes of the world). The summit is 4100 meters above sea level, so approx. 40% of the atmosphere and 90% of water vapor lies below it. Chill weather and environment quite unfriendly to life (and to many devices, too) pays off in exceptional dark and clear night sky.
Even if the seeing at Mauna Kea would be considered exceptionally good by many observers, big telescopes need the best conditions to utilize their apertures. Seeing must be monitored e.g. to enable changes in the observation program to fit current conditions. The Canada-France-Hawaii Telescope (CFHT) is equipped with seeing monitor based on continuous imaging of one star, splitted to three images by aperture mask.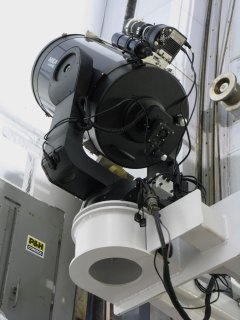 Mutual movement of all three images of single star indicates how much the atmosphere distorts the image in the telescope. Exposures mus be very low (approx. a millisecond) to capture the instant atmospheric conditions. Seeing is then evaluated by a custom application and published through Java applets running in the common WWW browsers.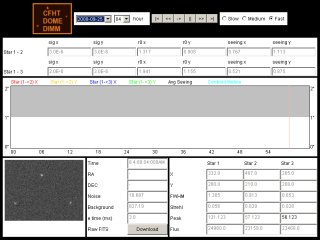 Of course we are very happy that MII CCD cameras were chosen for this task and that our G series cameras proved that they can work together with world class instruments.