Drivers use widespread ASCOM standard for controlling of CCD cameras from various programs, supporting this standard (ASCOM abbreviation suggest usage of COM—Component Object Model—for integration of all observatory devices used in AStronomy). ASCOM defines numerous software interfaces to control not only CCD cameras, but also filter wheels, motorized focusers, telescope mounts, observatory domes etc. ASCOM standard is usable under Microsoft Windows operating systems. More on the http://ascom-standards.org/ site.
It is necessary to install ASCOM drivers, because they are registered within the operating system (to be available to various programs). It is not enough to copy respective driver files into some folder. This is why ASCOM drivers are supplied as executable files (with .exe extension). These files are digitally signed to ensure their integrity.
AscomG1CCD_Setup.exe—for automatic guiders and cameras of G1 series (including the new G0 modifications).

AscomGxCCD_Setup.exe—for cooled G2 revision 3+, G3 and large-format G4 series of CCD cameras. This driver also includes interfaces for controlling of filter wheels, embedded in these cameras, or external filter wheels attached to these cameras.
When the installation finishes and ASCOM driver is chosen in the particular program, drivers are offered in the standard camera choosing dialog box.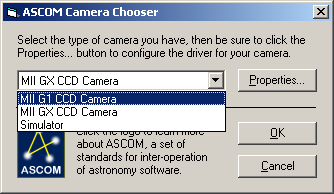 Gx camera ASCOM drivers offers other features, like the ability to select one of multiple connected cameras of the same type (including the automatic enumeration and displaying of connected cameras in list box), ability to select camera read mode, setting of the maximal cooling/heating speed in the case of cooled cameras etc. These parameters can be defined in dialog boxes available from configuration window. All these properties are described in the PDF documentation, supplied together with the driver themselves.
Drivers can be downloaded from the download section of this WWW site.