CCD cameras of G2 series can include integrated filter wheel for 5 filters up to 31 mm diameter. So changing of filters between exposures can be performed programmatically, without the user's intervention. Camera can interleave acquisitions of individual R, G and B images, for instance to eliminate influence of changing light conditions, height of object above horizon etc. But the number of filters in internal filter wheel is limited to five.
While it is often enough to accumulate several tens of minutes of exposure for each color channel to obtain good image of many objects, and so it is possible to get the whole exposure during one night, exposures for narrow-band imaging (typically in wavelengths corresponding to SII, H-alpha and OIII lines) must be much longer. The it could be possible to combine LRGB filters in internal filter wheel with narrow-band filters in the form of clip-filters. When an exposure through single narrow-band filter takes whole night, automatic filter exchange is not that necessary.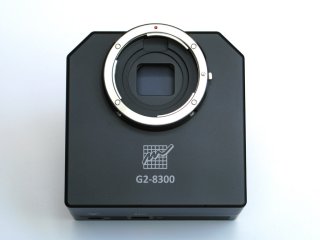 Because of clip-filters dimensions (they are rectangular with approx. 27 × 22 mm size), they are limited to G2 series of CCD cameras only. It is not possible to use them with large-sensor cameras of G3 and G4 series.