C1 camera models are equipped with Sony IMX CMOS detectors with 3.45 × 3.45 μm square pixels. Individual models differ in resolution only:
| | | | | |
| --- | --- | --- | --- | --- |
| Model | CMOS sensor | Resolution | Pixel size | Image area |
| C1-1500 | IMX273 | 1456 × 1088 pixels | 3.45 × 3.45 μm | 5.02 × 3.75 mm |
| C1-3000 | IMX252 | 2064 × 1544 pixels | 3.45 × 3.45 μm | 7.12 × 5.33 mm |
| C1-5000 | IMX250 | 2464 × 2056 pixels | 3.45 × 3.45 μm | 8.50 × 7.09 mm |
| C1-12000 | IMX253 | 4112 × 3008 pixels | 3.45 × 3.45 μm | 14.19 × 10.38 mm |
Is compatible with a PC standard and runs modern 32 or 64-bit Windows operating system.

Is compatible with a PC standard and runs 32 or 64-bit Linux operating system.

Support for x64 based Apple Macintosh computers is also included.
C1 cameras are designed to be connected with the host PC through USB 3.0 interface, operating at 5 Gbps. Cameras are also compatible with USB 2.0 port to communicate with a host PC.
Alternatively, it is possible to use the "Gx Camera Ethernet Adapter" device. This device can connect up to four Cx (with CMOS sensors) or Gx (with CCD sensors) cameras of any type and offers 1 Gbps and 10/100 Mbps Ethernet interface for direct connection to the host PC. Because the PC then uses TCP/IP protocol to communicate with the cameras, it is possible to insert WiFi adapter or other networking device to the communication path.
Please note that the USB standard allows usage of cable no longer than approx. 5 meters and USB 3.0 cables are even shorter to achieve very fast transfer speeds. On the other side, the TCP/IP communication protocol used to connect the camera over the Ethernet adapter is routable, so the distance between camera setup and the host PC is virtually unlimited.
The C1 cameras do not need an external power supply to operate, they are powered through the USB connection from the host PC.
Note the camera must be connected to some optical system (e.g. the telescope) to capture images. The camera is capable of long exposures, necessary to acquire the light from faint objects. If you plan to use the camera with the telescope, make sure the whole telescope/mount setup is capable to track the target object smoothly during long exposures.
Camera Electronics
CMOS camera electronics primary role, beside the sensor initialization and some auxiliary functions, is to transfer data from the CMOS detector to the host PC for storage and processing. So, as opposite to CCD cameras, CMOS camera design cannot influence number of important camera features, like the dynamic range (bit-depth of the digitized pixels).
Fast 8-bit mode with more than 100 MPx/s digitization speed (5 MPx image from C1-5000 is downloaded in less than 0.05 s). Number of bytes transferred to the PC equals to number of pixels.

Slightly slower (but still very fast) 12-bit mode with ~80 MPx/s digitization speed (5MPx image from C1-5000 is downloaded in ~0.06 s). Every pixel then occupies 2 bytes (1 word), only the upper 4 bits of every word are always zero.
The download times mentioned above are valid for USB 3.0 connection.
Please note the download times do not necessarily lead to corresponding FPS, because every image downloaded has to be processed and displayed, which also consumes time. This time is negligible, if slow-scan camera needs many seconds for image download, but in the case of fast CMOS cameras, time for image processing in the PC (e.g. calculation of image standard deviation etc.) can be longer than image download itself.
C1 cameras are capable of very short exposures. The shortest exposure time is 125 μs (1/8000 of second). This is also the step, by which the exposure time is expressed. So, the second shortest exposure is 250 μs etc.
Long exposure timing is controlled by the host PC and there is no upper limit on exposure time. In reality the longest exposures are limited by saturation of the sensor either by incoming light of by dark current (see the following sub-chapter).
The sensor response to light is perfectly linear. This means the camera can be used also for entry-level research projects, like for instance photometry or brighter variable stars etc.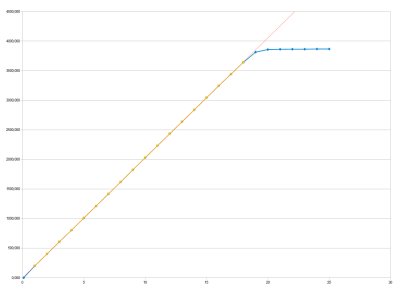 Sensor Cooling
Dark current is an inherent feature of all silicone circuits. It is called "dark", because it is generated regardless if the sensor is exposed to light or not. Dark current, injected into individual pixels, appear in image as noise. The longer exposure, the greater amount of noise is present in every image. As it is generated by random movement of particles, it depends on the temperature exponentially (this is why the noise generated by dark current is also denoted "thermal noise"). Typically, lowering the sensor temperature by 6 or 7 °C halves the dark current.
While the C1 cameras are not equipped with active thermo-electric (Peltier) cooling, they are still equipped with a small fan, exchanging the air inside the camera body. What's more, a small heat sink is located directly on the sensor (with the exception of the C1-1500 model, which sensor is too small for heat sink) to remove as much heat as possible. So, the C1 sensor cannot be cooled below the ambient temperature, but its temperature is kept as close to environment as possible. Compared to closed designs, the sensor temperature in the C1 camera can be up to 10°C lower and resulting dark current may be less than half.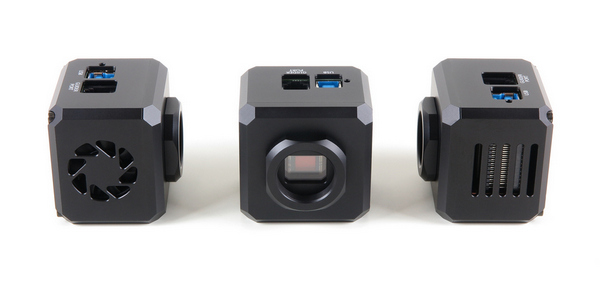 The fan operation can be controlled from the software. SIPS directly offers a slider controlling fan in the "Cooling" tab of the main camera control tool window. Camera drivers for other software must rely on driver configuration dialog box to control fan.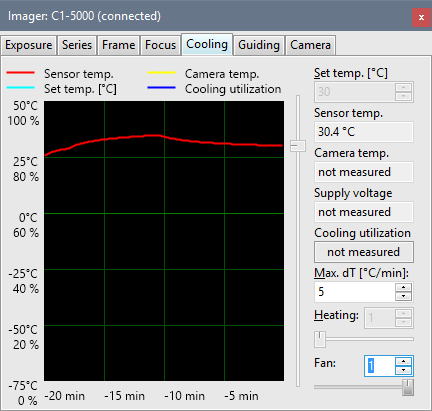 Autoguider port
A lot of astronomical telescope mounts (especially the mass-manufactured ones) are not precise enough to keep the star images perfectly round during long exposures without small corrections. Cooled astronomical cameras and digital SLR cameras allow perfectly sharp and high-resolution images, so even a small irregularity in mount tracking appears as star image deformations. C1 cameras were designed especially with automatic mount guiding on mind.
C1 cameras were designed to operate without any mechanically moving parts (with the exception of magnetically levitating fan). Electronic shutter allows extremely short exposures and also obtaining thousands of images in a short time, which is necessary for quality guiding.
C1 cameras work in connection with a host computer (PC). Guiding corrections are not calculated in the camera itself, it only sends acquired images to the PC. The software running on the PC calculates the difference from required state and sends appropriate corrections to the telescope mount. The plus side of using a host PC CPU to process images is the fact, that current PCs provide overwhelming computational power compared to any embedded processor inside the guiding camera. Guiding algorithms then can determine star position with sub-pixel precision, can match multiple stars to calculate average difference, which limits the effects of seeing, etc.
Calculated corrections can be sent back to mount using PC-to-mount link. If the mount controller does not support so-called "Pulse Guide" commands, it is possible to use "Autoguider" port. It is enough to connect the C1 camera and the mount using standard 6-wire cable and guide the mount through the camera.
The maximum sinking current of each pin of the C1 camera is 150 mA. If the mount does not treat the autoguider port as logical input only, but switches the guiding motors directly by these signals, a relay box must be inserted between the camera and the mount. The relay box ensures switching of currents required by the mount.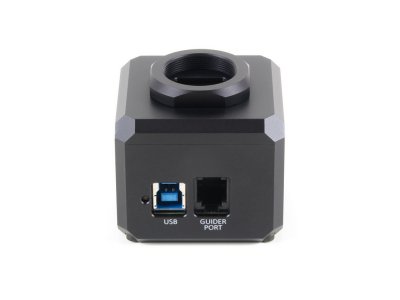 The Autoguider port follows the de-facto standard introduced by SBIG ST-4 autoguider. The pins have the following functions:
| | |
| --- | --- |
| 1 | R.A. + (Right) |
| 2 | Dec + (Up) |
| 3 | Dec – (Down) |
| 4 | R.A. – (Left) |
| 5 | Common (Ground) |
| 6 | Not connected |
Mechanical Specifications
C1 camera head is designed to be lightweight and compact to be easily attached even to small telescopes or finders. Compact and robust camera head measures only 57 × 57 × 48 mm not including the lens adapter.
The head is CNC-machined from high-quality aluminum and black anodized. The head itself contains USB-B 3.0 (device) connector and standard 6-pin "autoguider" connector.
| | |
| --- | --- |
| Internal mechanical shutter | No |
| Shortest exposure time | 0.000,125 s |
| Longest exposure time | Limited by chip saturation only |
| Head dimensions | 57 mm × 57 mm × 48 mm (excluding lens adapter) |
| Back focal distance | 12.5 mm for 1/32 UN thread (CS-mount compatible) |
|   | 18.5 mm for M42 × 0.75 thread (T-mount) |
| Camera head weight | 215 g |
Telescope/lens adapters
Adapter with 1/32 UN thread and 12.5 mm Back Focal Distance (CS-mount).

Adapter with M42 × 0.75 thread (T-thread) and 18.5 mm Back Focal Distance. This adapter also contains inner thread 1/32 UN with 12.5 mm BFD (CS-mount).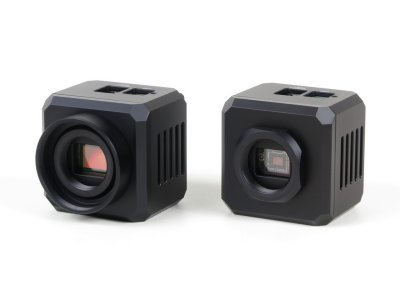 CS-mount it compatible with vast number of CCTV lenses. If C-mount lens has to be used (with 17.5 mm Back Focal Distance), simple 5 mm thick adapter ring can be used.
If the C1 camera should be used with OAG for cooled Cx or Gx cameras, short 10 mm C-to-1.25" barrel adapter has to be used. This adapter, shipped with respective OAG, is fully compatible with C1 camera.
Note the C1 camera with M42 × 0.75 (T-thread) adapter cannot be used with OAG, despite the short CS-to-1.25" barrel adapter can be attached to it. The large-diameter M42 adapter interferes with screws fixing the camera in the OAG guider port. This is why C1 variant with CS-mount only adapter is still supplied.
C-to-1.25" barrel adapter, compatible with standard 1.25" eyepieces, is included into camera package. So, the C1 camera can be easily mounted into virtually every astronomical telescope instead of an eyepiece.
The T-mount interface (also known as T-thread adapter) is defined by thread dimensions M42 × 0.75 as well as by 55 mm Back focal Distance. T-thread adapter for C1 cameras does not comply to the second parameter, its BFD is only 18.5 mm. The 55 mm BFD is not required in all applications and keeping such relatively large BFD would make the adapter quite bulky.
Still, an extension tube with male M42 × 0.75 thread is available. This extension tube converts the C1 camera BFD to 55 mm, required by numerous focal-reducers, field-flatteners, coma-correctors and other optical elements.
Extension tube with M42 × 0.75 (T-thread) on the telescope side.

Extension tube with larger M48 × 0.75 thread on the telescope side.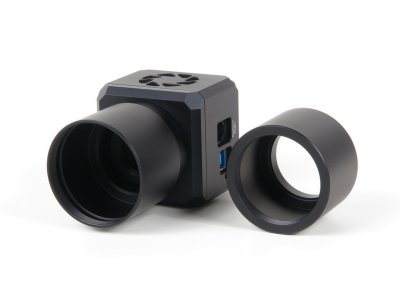 The extension tube outer diameter is exactly 2 inches (50.8 mm), so it can allow using of the C1 camera with any 2" focuser instead of 2" eyepiece.
Tripod and metric threads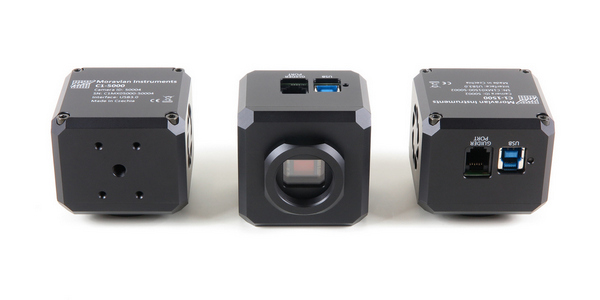 If the C1 camera is not attached to the telescope focuser through its telescope/lens adapter, it can be attached to standard photographic tripod using 0.25" thread. Another possibility is to use 4 metric M3 threaded holes, also located on the bottom side of the camera head.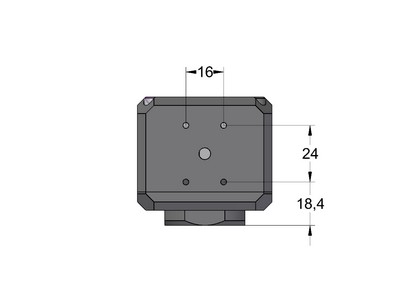 C1 Camera Dimensions
Software support
Software and driver support of the Cx series CMOS cameras is as rich as is the case of their Gx series CCD camera siblings.
If the C1 camera is connected directly to host PC using USB cable, a new system driver CxCamera.sys must be installed (see the "Installing and Using Drivers and Software" manual, shipped with every camera). The system driver pre-installation package version 2.0 and later contains this driver.

When the C1 camera is connected through the Camera Ethernet Adapter device, the device should be updated to firmware version 34 or later to work with CMOS cameras (see the "Ethernet Adapter User's Guide" for firmware update procedure).

When the SIPS is connected to the camera using the Camera Ethernet Adapter device, it shows the attached device firmware version in the Windows Action Center notification area.

Linux driver packages and libraries must be upgraded to latest versions, too. See the Download section of this site for details.
The SIPS (Scientific Image Processing System) software package version 3.12 or later is necessary to control C1 cameras.
Support for CMOS based Cx cameras was gradually added to individual SIPS version. While previous minor SIPS versions could be able to recognize C1 cameras, always use v3.12 or later for reliable camera operation.
ASCOM drivers version 4.4

Drivers for TheSkyX (all versions for Windows, MacOS and Linux) version 2.1

Astroart drivers version 3.1
First light images
The very first prototype of C1-3000 camera was used by renowned astro-photographer Martin Myslivec. He used the Borg 77ED refractor telescope on the EQ6 mount co capture several unguided exposures. Despite we understand Martin is highly skilled and experienced astro-photographer, the performance of C1 camera is very good also for deep-sky imaging.
The M31 Great Andromeda galaxy is a stack of 197 exposures 20 s long (approximately 1 hour and 5 minutes of total exposure time). No image processing was performed beside individual frame calibration and slightly non-linear stretching.
The M42 Great Orion nebula image was combined from two sets of exposures (kind of HDR image processing). Faint nebulosity, far from the image center, was acquired using 100 exposures 20 s long (approximately 33 minutes of total exposure time). The very bright central part of the nebula was captured with only 2 s long exposures (again 100 of them), which leads to approximately 3 minutes of total exposure time. The very short exposures allowed to perfectly capture the 4 central stars (called Trapezium) without over-exposing them.
The image of M45 Pleiades is a combination of 218 exposures 20 s long (approximately 1 hour and 12 minutes of total exposure time). Again, no image processing was performed, only the calibration and slight non-linearly stretch was performed.