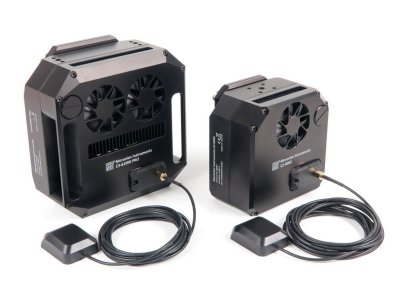 GPS modules can be attached to the port on the back side of the C2 or C3 camera head. Please note the camera must be equipped with a different back shell as well as internal electronic circuits to be compatible with GPS modules. So, it is necessary to choose GPS-ready variant upon camera ordering. Adding a GPS later requires the camera to be sent to manufacturer.
GPS antenna is shipped with the GPS module. Antenna cable is 3 m long and the antenna is equipped with a magnet, allowing it to be attached to any ferromagnetic surface. Please note the antenna must have a good view to the sky to be able to acquire signal from GPS satellites. Placing the antenna e.g. under metal covered dome may significantly limit the GPS signal reception.
GPS receiver module handling
GPS module is handled through camera command set. Its main purpose is to provide very precise timing of the exposure times with better than μs precision (the GPS module provides time pulses with 30 ns tolerance). Geographic location data are also available to the control software through specific commands.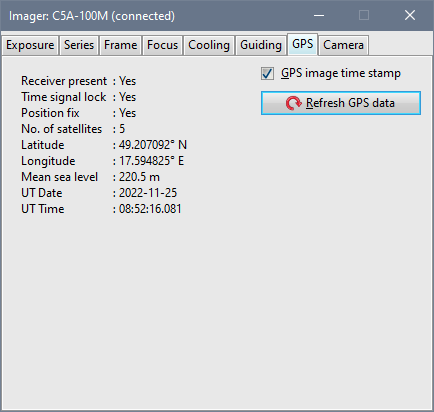 The GPS module needs to locate at last 5 satellites to provide exposure timing information. Geographic data are available if only 3 satellites are visible, but especially the mean sea level precision suffers if less than 4 satellites are used.